Heritage Day South Africa is celebrated on 24 September every year with the focus on shared culture instead of cultural divisions.
Shaka Day?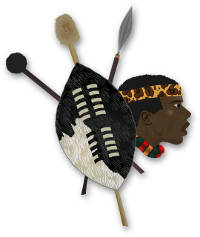 In Kwazulu-Natal this day is celebrated as Shaka's Day in commemoration of the Zulu King. With his unique fighting methods, courage and strength, he conquered surrounding tribes uniting them as one mighty Zulu nation. Today celebrations would include eating, drinking, being merry and also visiting King Shaka's grave in remembrance of the Zulu King's place in our South African history.
Heritage Day and Braai Day
Heritage day was created to observe the diverse cultural heritage in South Africa, celebrating our differences, our traditions and our beliefs as one powerful nation.
The Braai4Heritage initiative calls on South Africans to get out their braai tongs, the meat and all the other gear in celebration of the day. In 2007 Arch Bishop Desmond Tutu was made the National Spokesperson for 'Braai Day' where he said:
"There are so many things that are pulling us apart.
This has a wonderful potential to bring us all together."
I mean who doesn't enjoy a nice braai and good conversation with friends and family?
Sometimes it's the little things that bring us together; from our favourite TV shows, sports games to our favourite meals. In our growing nation, it's important to be mindful of each other's beliefs and cultural differences. One way of doing this is to learn more about the diverse mix of people we share our world with. To gain the knowledge to understand the different cultures, religions and traditions to truly make us one powerful nation
And whatever you believe in, whatever your title, your group, your tribe, we are one race… Human.
Ticketpro events for Heritage Day
Tickets available at Ticketpro – Amazing Vouchers members get 20% - 50% discount on selected tickets & events.
Not an Amazing Vouchers member yet? Leave your details on our Join Page and we'll call you back
Also check out our Amazing Packages which include access to Freebies, Discount, Added Value and 2for1 Voucher deals, Sim Card, Monthly airtime rewards, Double Airtime purchases and Legal Assistance