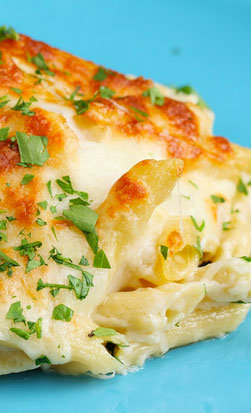 Chicken bake with cheese
1 litre chicken stock
8 chicken breasts
2 onions, sliced
salt and pepper
handful parsley, chopped
5 ml (1 t) dried thyme
50 g butter
2 carrots, diced
250 g mushrooms, quartered
30 ml (2 T) flour
375 ml (1 ½ c) short pasta (such as penne)
500 ml (2 c) cream
250 ml (1 c) frozen peas
Cheddar and mozzarella cheese
Preheat oven to 200 °C.
Combine stock and 250 ml (1 cup) water in a large saucepan. Add the chicken, sliced onion, salt and pepper and bring to a simmer over high heat, skimming off the foam that rises to the surface.
Add the parsley and thyme and cover the pot. Reduce the heat to low and simmer until the chicken is cooked. Strain into a heatproof bowl, reserving the stock. Transfer the chicken to a carving board and set aside to cool.
Melt the butter in a large pot over medium heat. Add the carrots and mushrooms to the pot and cook for 5 minutes, stirring occasionally.
Meanwhile, shred the cooled chicken.
Sprinkle the flour into the pot and pour in the stock, stirring continuously. Simmer for 5 minutes and add the pasta. Cook for 8 minutes or until pasta is almost cooked.
Add cream, shredded chicken and peas. Transfer the mixture to an oven dish, grate cheese over and bake for 10 minutes or until the cheese is golden.